Tile has partnered with Bose to add Tile smart location to the Bose SoundSport Wireless headphones!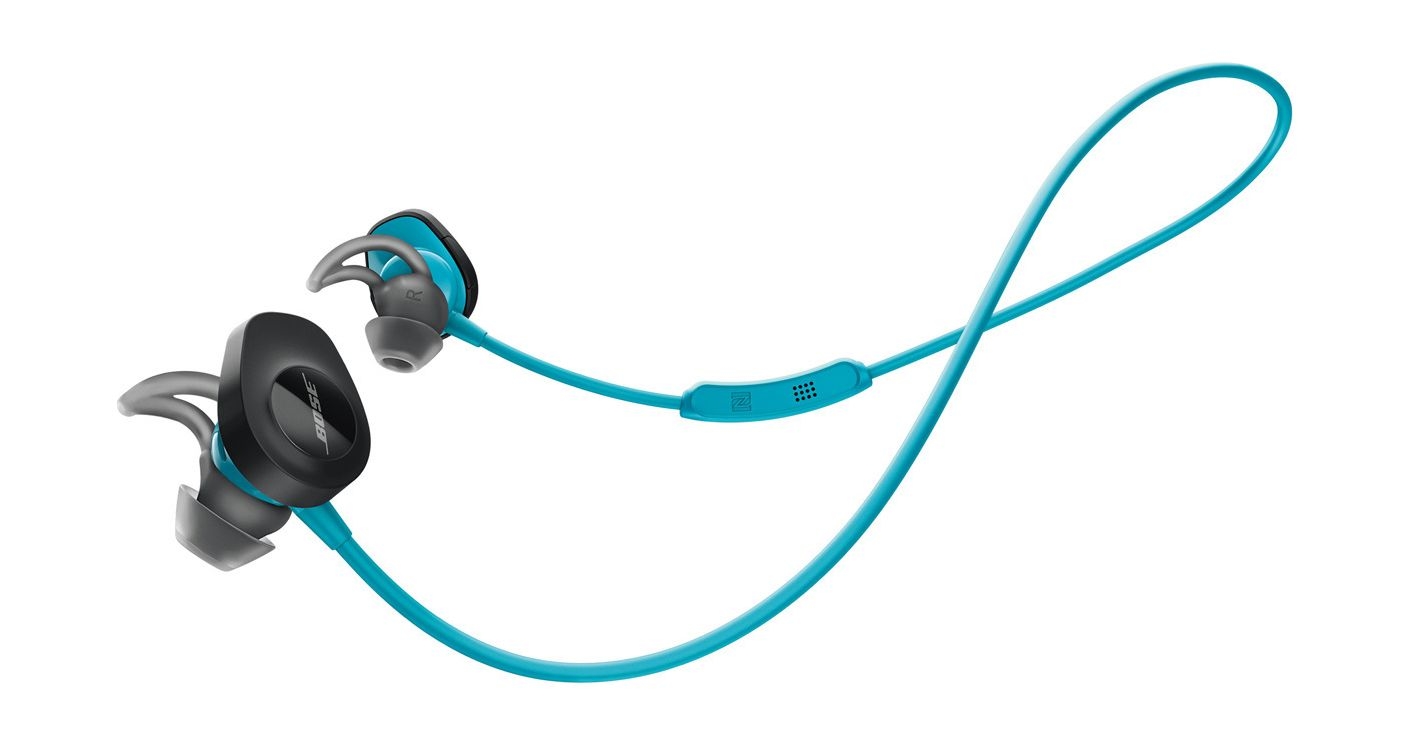 We know you may have questions about this exciting partnership so check out the questions below for more information:

What are the SoundSport Wireless headphones?
The SoundSport Wireless are lightweight Bluetooth headphones with the powerful sound you'd expect from Bose.
Unlike typical headphones, the Bose SoundSport Wireless will receive an exclusive firmware update which adds Tile technology right into the headphones! With this update and the Tile app, you can ring your headphones if they're misplaced nearby, or see the last place you had them if misplaced somewhere else.

To download the firmware update, please be sure to install the Bose Connect App on your smartphone. For details about the Bose Connect app, check out Bose's website.
Please note that only the standard SoundSport Wireless model is eligible for this firmware update and does not include the SoundSport Pulse or any other Bose models at this time. If you'd like to see Tile in other devices, please submit your feedback to us here!

How does Tile work with the Bose SoundSport Wireless headphones?
Once the firmware version 2.7.7 is updated using the Bose Connect app, the Tile technology inside your SoundSport Wireless headphones works in the same three ways as a Tile normally would!
Your SoundSport Wireless headphones utilize Tile's Bluetooth tracking technology to find your headphones if it's hiding nearby or see the location of where your headphones were last connected, all within the Tile app on your phone. 

Do I need to download a special app?
Yes, if you are a first-time Bose user, please be sure to download the Bose Connect app. This app will make sure your headphones will receive the latest firmware update including the Tile functionality. 
After checking that your SoundSport Wireless headphones have the most up-to-date firmware, simply download the Tile app here to activate your headphones with Tile's finding power!
If you already have a Tile account, you're all set to add your Bose SoundSport Wireless headphones! 

How do I activate my Bose SoundSport Wireless headphones?
Simply 

download our app
Open the Tile app and tap the "+" sign, then tap to select "Bose SoundSport wireless earbuds" 
*Note: If you don't see the Bose option after tapping + please uninstall and reinstall the Tile app and it should appear

Follow the on-screen instructions - you'll want to make sure the headphones are charged and powered on in order to activate the Tile!

Hold your headphones close to your phone until you see the successful message that activation has completed.
After adding the Bose SoundSport Wireless to your Tile account, you'll be able to locate and ring your headphones!


Can I get a refund or warranty for my Bose SoundSport Wireless headphones?
All refunds and warranties are fulfilled through Bose. You can contact Bose at their website with a variety of support options.
 

How will I know if my Bose SoundSport Wireless headphones have been activated with the Tile app?
There are two ways you can tell that your headphones have been activated by the Tile app:
The Tile app will show a Tile card with your SoundSport Wireless headphones as seen here:
After activation, when you power on the headphones, listen for the voiceover which will say "Tile Activated". There is no way to disable the "Tile Activated" statement while the Tile integration is active.

If you've purchased the headphones from a third party and the voiceover says "Tile Activated", this means that the Tile integration was activated by the previous owner and must be disabled by the original owner. Please contact Tile support if you need assistance.

My SoundSport Wireless headphones are not connecting to my Tile app, what can I do?
Not to worry, here are some quick things to check:
1. Make sure your headphones are charged! Since the Tile integration uses the headphones' built-in battery, if the battery's charge level is below 10% then the headphones cannot power on or connect to the Tile app.
2. Make sure Bluetooth is enabled on your smartphone, the Bose SoundSport Wireless are wireless headphones that connect with your smartphone via Bluetooth for normal audio playback and phone calls. The Tile app also uses Bluetooth to connect to the headphones briefly and update the location so you'll know where you last had them.

For Android smartphones, you'll especially want to check that Location Services are enabled. The Android operating system requires Location Services to be enabled to scan for Bluetooth devices, this is not specific to Tile.
Still having trouble connecting? Consider restarting your phone by powering it off, then back on - this can be especially helpful if you haven't turned off your phone in a long time. Restarting your phone helps to clear out any Bluetooth errors that can interfere with connectivity.

When I press "Find" in the Tile app, the volume of the finding tune seems low, why is that? 
The finding tune for the SoundSport Wireless will gradually increase, starting softly just in case you had the headphones in your ears! Kindly wait for several seconds and you'll hear the tune come up to full volume.

Additionally, when you "Find" your headphones, the headphones' "Tile Activated" voice prompt will be heard, as if the headphones are turned on. This can also delay the finding tune by a few seconds as the tune starts when the prompt is done.
 
The location of my headphones is showing incorrectly in the Tile app, how can I fix this?
1. Please be sure that Location Services are enabled on your smartphone and location permissions are Always granted to the Tile app - the Tile app needs access to your phone's location so that it can update your headphones when they connect to your phone.
2. The Tile app uses your phone's native maps application to understand where it is in the world. If you don't use your phone's maps application, or use a 3rd party application (like Waze, etc.) please open Apple Maps for iOS or Google Maps for Android to ensure that your phone's GPS information is reporting properly.
3. Make sure your phone is not in Low Power (iOS) or Battery Savings (Android) modes to ensure that Location is updating properly. When in battery savings modes, the phone will update location information much less frequently, if at all.
4. For more recent versions of Android, especially Android 8 (Oreo) and 9 (Pie), be sure to whitelist the Tile app to allow the app to run in the background even if you haven't opened the app recently. This is how the Tile app is designed to work - in the background without your needing to open it often - but sometimes the Android OS will stop the app from working if you haven't opened it recently.
I want to remove the TIle integration from my SoundSport Wireless headphones, can I add it back later? 
Yes! If you decide you'd like to remove the Tile integration from your headphones you can do so right in our Tile app as long as you have. *Please be sure that your Tile app is connected to the headphones, easily seen by the green "Find" button on the Tile card. The Tile app must be connected to the headphones to remove the Tile functionality.

1. Simply open the app, tap the 3 dots on the SoundSport Tile card, then tap Details from the pop-up menu that appears: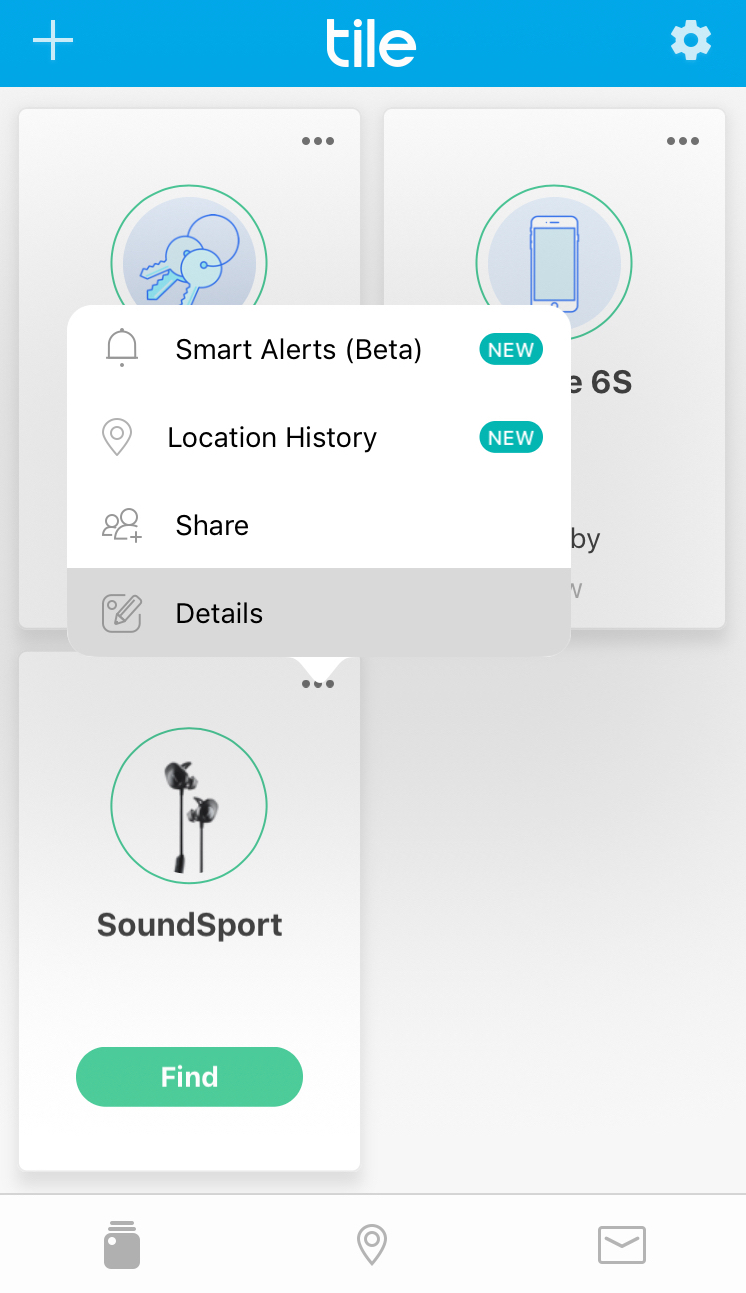 2. On the details screen, tap the red Reset button: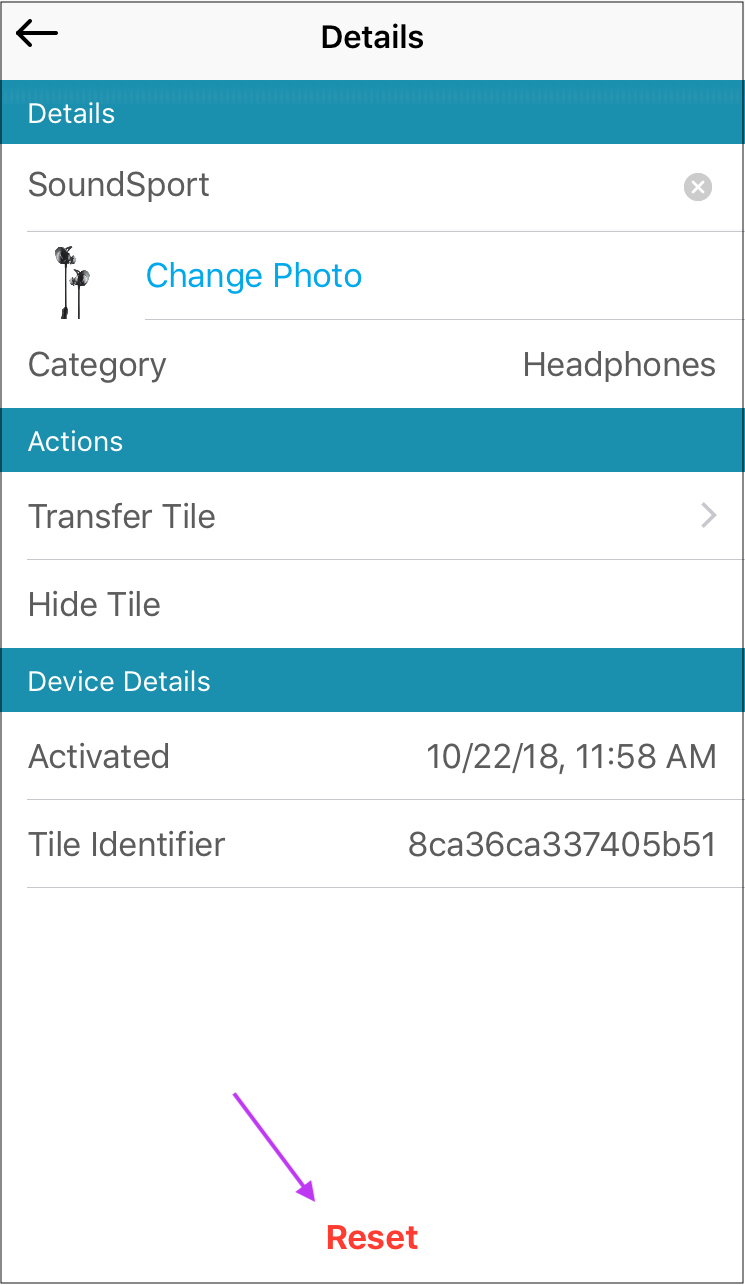 The app will ask you to Confirm since this action is permanent. Not to worry though, if you want to use the Tile features later on, simply open the Tile app and tap the + to Activate the headphones again :)