Headphones, earbuds, headsets are not connecting to the Tile app
Here are a few things to try:
Make sure your headphones/earbuds/headset is charged. If the battery level is below 10%, your device may not power on and the Tile app will not be able to connect with it. Charge your device until it has sufficient power.
Make sure Bluetooth is enabled on your smartphone or tablet. The Tile app uses Bluetooth to connect to your headphones/earbuds/headset.
Check that Location Services are enabled. The Android operating system in particular requires Location Services to be enabled to scan for Bluetooth devices.
Consider restarting your smartphone or tablet by powering it off, then back on. This can be especially helpful if you haven't turned it off in a long time. Restarting helps to clear out any Bluetooth errors that can interfere with connectivity.
Important: Do NOT reset the headphones/earbuds/headset in an attempt to fix connection issues. If you reset without being connected to the Tile app, you will not be able to reactivate the Tile functionality of your headphones/earbuds/headset.
Tile app is not showing the correct location of headphones/earbuds/headset
The Tile app relies on the location information in your smartphone or tablet, and sometimes it needs some adjusting. Here are a few things to try:
On your smartphone or tablet Settings, confirm that location services are enabled and location permissions are Always granted to the Tile app.
For iOS devices, make sure the Tile app is open or running in the background.
Add the Tile app to the "Unrestricted list" of apps to allow the Tile app to run in the background even if there's no interaction with the app for a few hours.
Make sure your smartphone or tablet is not in Low Power (iOS) or Battery Saving (Android) modes to ensure that the location is updating properly. When in battery-saving mode, location information gets updated much less frequently, if at all.
Open the native maps application of your smartphone or tablet, especially if you have not opened it recently. For iOS devices, open Apple Maps and for Android devices, open Google Maps. This ensures that your phone's GPS information is reporting properly and allows Tile to accurately locate your headphones/earbuds/headset.
Lastly, Android relies on significant location change to update the location of your Tile(s). If you have not changed location recently, that may be why the app hasn't refreshed the location.
Tile app is showing only one side of earbuds
Make sure you are utilizing the L to R toggle button (example below) toward the bottom of the screen to see each earbud. Earbuds are individual finders, if you lose one you can ring it.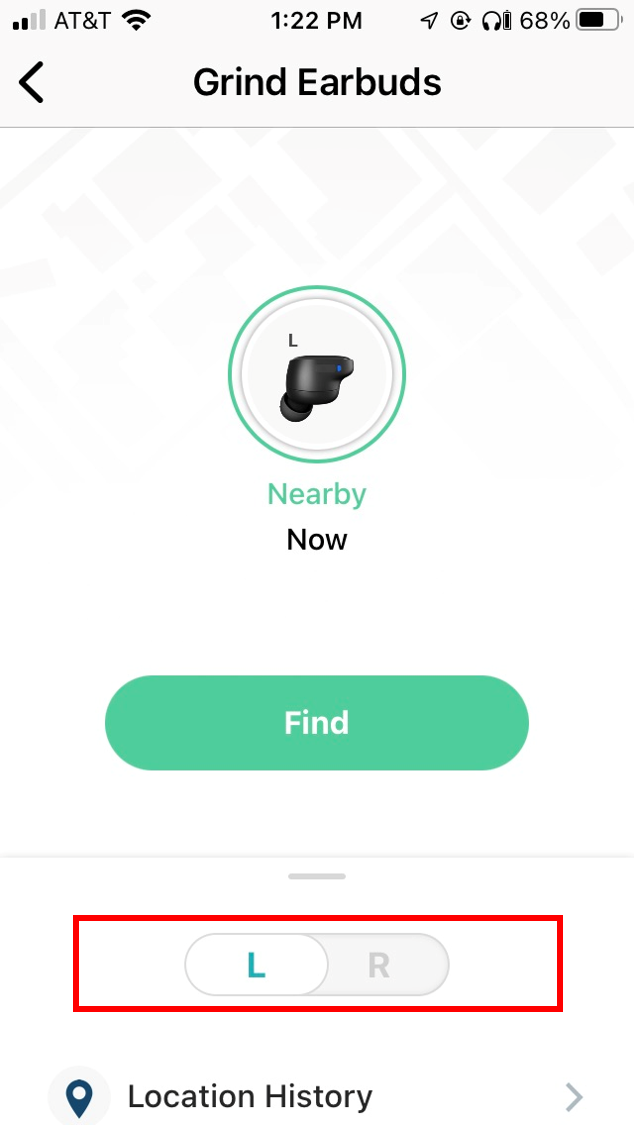 Tile app is showing a "Previously Activated" error message
Your headphones/earbuds/headset only need to be activated once. If they appear in your Tile app, then you do not need to activate a second time. If you are sure you have not activated your earbuds under a different Tile account and you are getting the Previously Activated error message, complete the following steps:
Unpair all Bluetooth devices from your mobile device. (This is for troubleshooting purposes only, you can pair the devices again after successful activation.)
Force close all apps from the recent apps page.
Restart your mobile device.
Relaunch the Tile app.
Attempt activation again.
Tile app is showing a "Verification timed out" error message
This message appears if the Tile app doesn't detect that you've pressed the correct buttons on your headphones/earbuds/headset to activate. Make sure you press the buttons as seen in the app instructions (example below).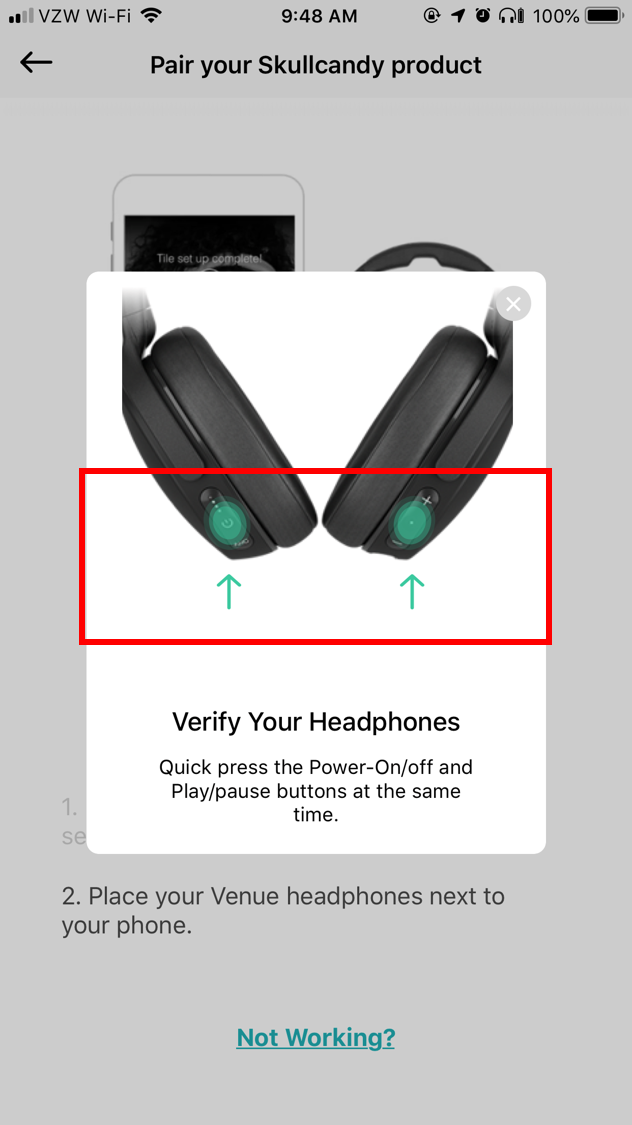 If you are pressing the correct buttons and you are still getting the error message, here are a few things to check before retrying activation.
Verify that you are activating the correct model.

Check if Bluetooth is on on your smartphone or tablet. If yes, refresh the Bluetooth connection by turning it Off/On.

Check the battery level of your headphones/earbuds/headset.
Tile app is not showing the logo of my headphones/earbuds/headset
If you do not see the logo of your partnered product under Activate a Tile Enabled Device, it's possible that the Tile app has not downloaded the image. To fix this:
Check that you have a stable internet connection.
Check that you have the latest version of the Tile app.
Force close the Tile app, then reopen to check if the logo is now visible.