Connect any Trusted Place to Wi-Fi for faster notifications and improved battery performance. You can add Wi-Fi to up to 5 different Trusted Places.
In order to improve battery performance and notifications when the Jiobit enters or exits a Trusted Place, connect to a Password Protected Wi-Fi network. This can be useful for locations like: 
School or daycare

Grandparent's, relative's, and/or caregiver's home 

After school programs
When Wi-Fi is added to a Trusted Place, the Jiobit is able to save on battery power and use the connection to the Wi-Fi router to define its location when it's within range.  This means that your Jiobit's arrival and departure notifications will occur faster than they would if the tracker was using a GPS signal, and with greater accuracy. 
You can set up a connection to any Wi-Fi network you have the password to, as long as you and the Jiobit are in a Trusted Place during setup. 
To set up Wi-Fi at a Trusted Place:
1. Enable Bluetooth on your phone and allow the Jiobit to connect (Tip: Ask Care Team Members within Bluetooth range to turn off their Bluetooth) 
2. Place the Jiobit within range of your Wi-Fi router 
3. Open the app
4. Go to MENU
5. Go to Trusted Places
6. Click (...) and select Add Wi-Fi or click the blue "Add Wi-Fi" button next to the relevant Trusted Place
7. Choose a compatible 2.4G network and enter the Wi-Fi credentials 


                               
For Faster notifications: 
Enable the Jiobit app's Wi-Fi Fence for any Trusted Place with a Wi-Fi connection (up to 5 places)
To remove or update your Wi-Fi network: 
1. Open the app
2. Go to MENU
3. Go to Trusted Places
4. Select (...) next to the relevant Trusted Place
5. Select Remove Wi-Fi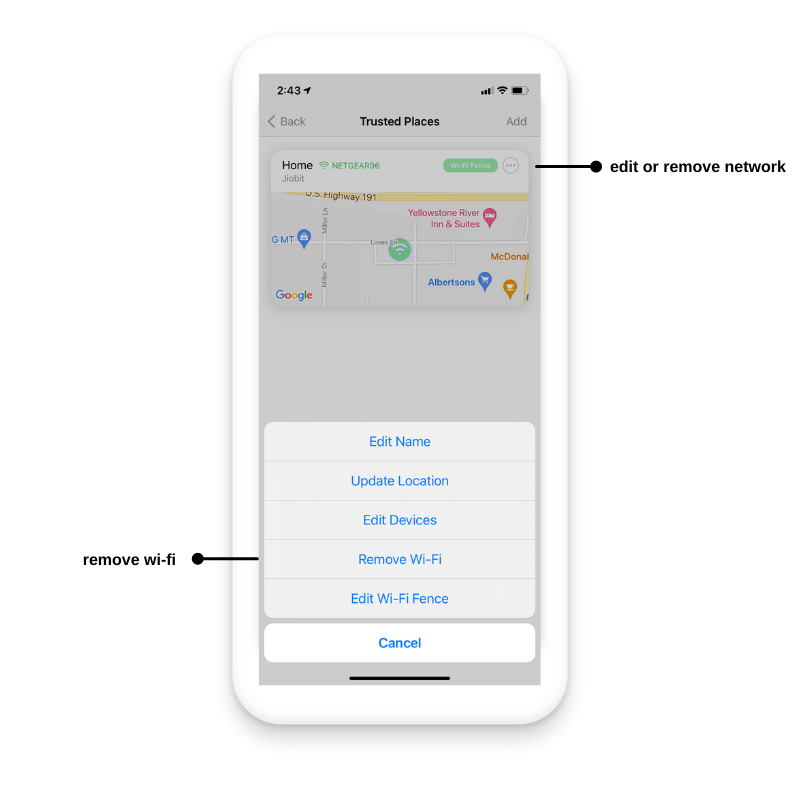 Please Note:
The below Internet service providers are not compatible with the Jiobit app:
HughesNet
Starlink
And any other satellite based ISPs