Popular Trusted Places include home, school, or a caregiver's home. To add a Trusted Place: 
Open the app

Go to

MENU
Select Trusted Places

Select

Add
For accuracy, toggle to Satellite view by clicking the view icon

in the top right-hand corner of the map (see example below). 

Choose

Satellite + Street
Set a custom radius with a "geofence" (a manual boundary of 100-800 feet in diameter.) A Wi-Fi fence can also speed up notifications — a boundary established by your home Wi-Fi router.

Please note: the Jiobit will not report location updates until it leaves the geofence. Large geofences will result in delayed notifications and location updates.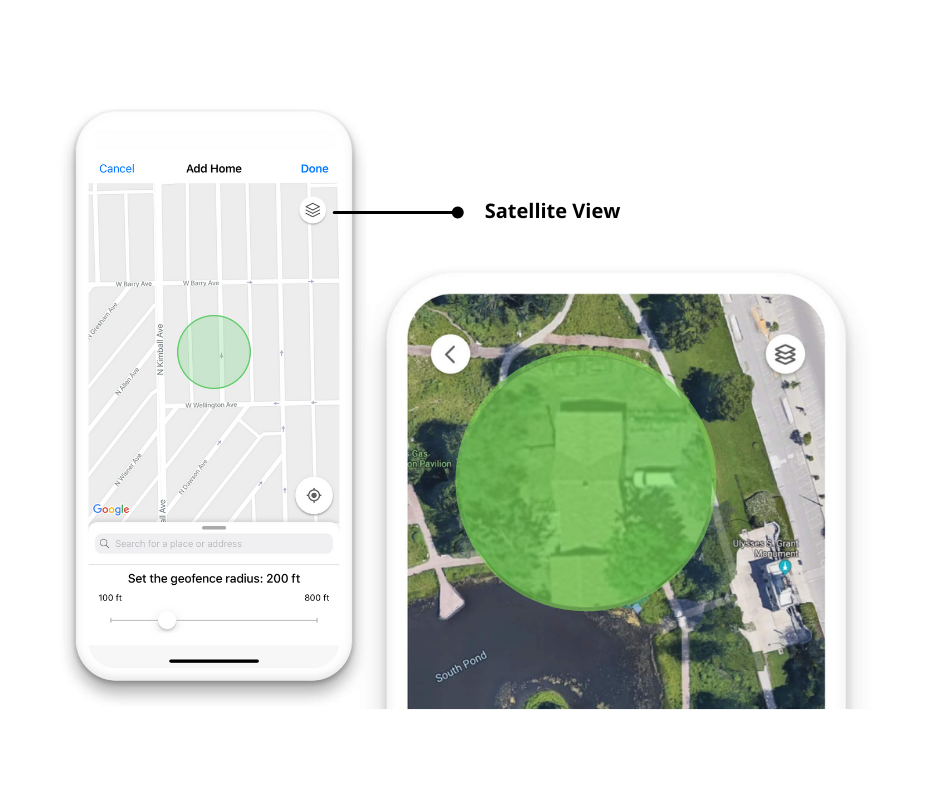 Connect Your Trusted Place to Wi-Fi 
Connecting to a home Wi-Fi network will improve battery life and notifications. To use your Wi-Fi signal as your Trusted Place boundary at home, click Add Wi-Fi on the Trusted Place card. 
Remember—your Jiobit and phone must be:
Connected via Bluetooth 

Within the Trusted Place in order to connect to its Wi-Fi credentials
Please Note:
The below Internet service providers are not compatible with the Jiobit app:
HughesNet
Starlink
And any other satellite based ISPs
Update Your Trusted Place
If you need to change the size of your Trusted Place or remove a secondary location altogether: 
Open the app 

Go to

MENU

Go to

Trusted Places

Select (...)

Select

Update Location 
Learn more about Wi-Fi Fence here.