Dashboard View- When the Jiobit is "With You"
The dashboard is your summary view of everything going on with Jiobit. This view will look different whether your child is with you or away from you.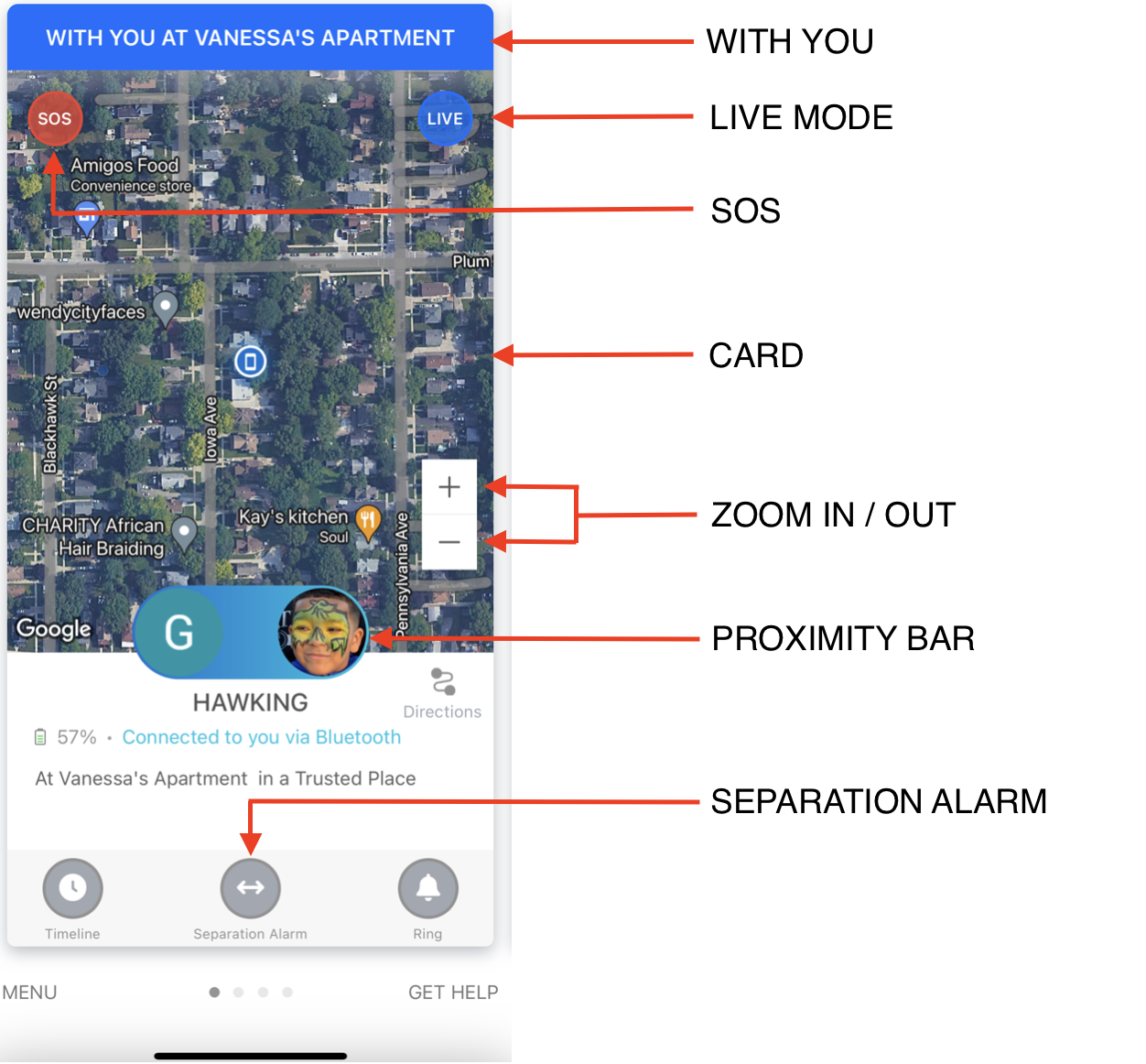 WITH YOU
Jiobit is connected to your phone via Bluetooth. During this time the app is relying on your phone's carrier and GPS signals to update the app.
LIVE MODE
Click the sun icon or pull down the card to switch to Live Mode for real-time tracking. Jiobit Live Mode
SOS - Coming soon
SOS is available when device is located outside of a Trusted Place and not with you or a Care Team Member. Jiobit SOS
CARD
Each Jiobit is represented as a card in the dashboard. Swipe right or left to see other Jiobits you track.
ZOOM
The plus and minus symbols allow you the ability to zoom in and out of the map.
PROXIMITY BAR
This shows who is near Jiobit. The bar is dynamic and when the two pictures move closer, it means Jiobit moves closer to you. Jiobit Proximity Bar
SEPARATION ALARM
Set alerts when you are tethered to the phone via Bluetooth. Jiobit Separation Alarm
Dashboard View – When the Jiobit is away from you
When the Jiobit is away from you or not within a Trusted Place the app will use smart tracking to update location details. During this time TRACKING mode will be displayed in the app and is used to see where the last location report was generated.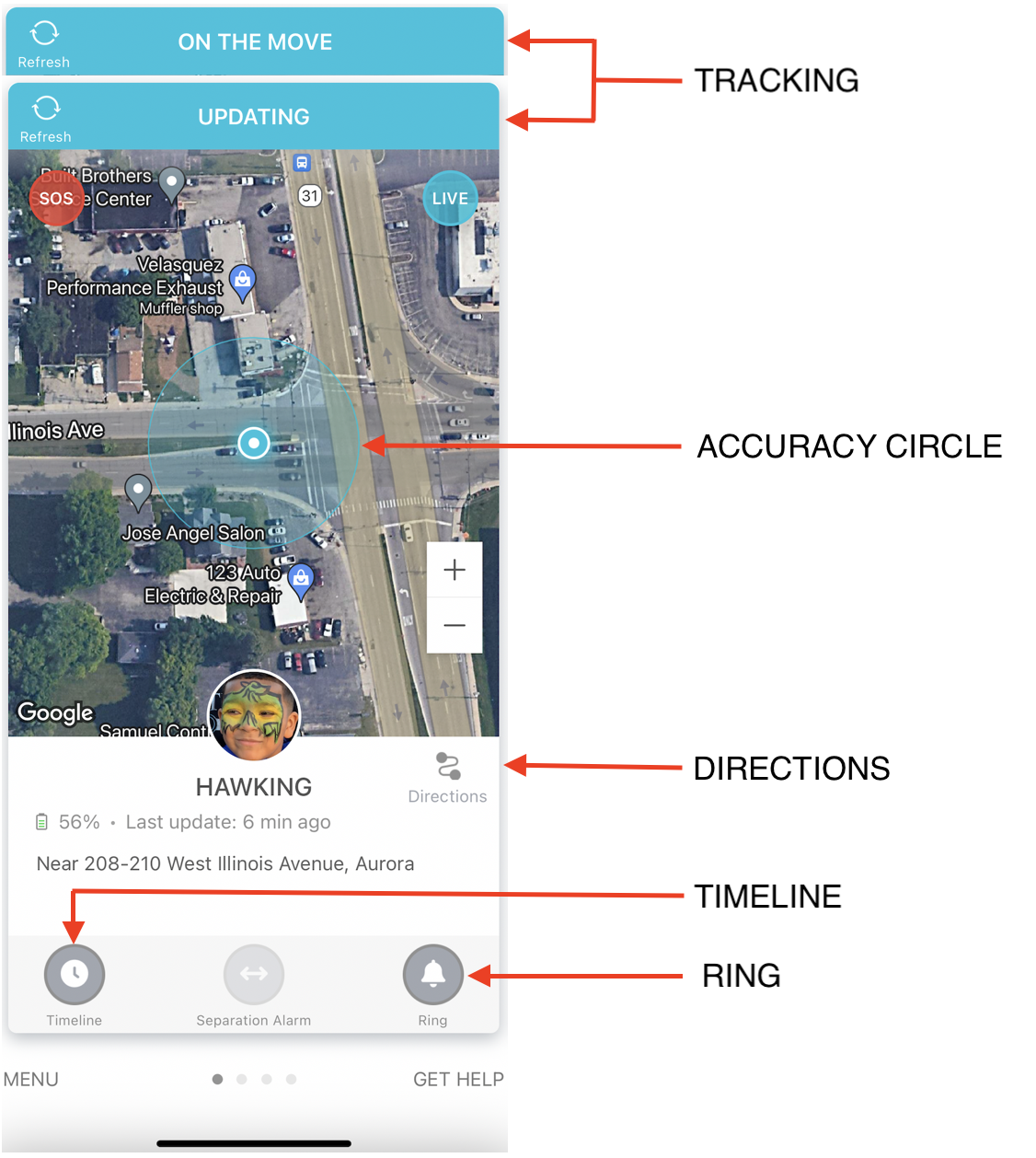 TRACKING MODE
The Jiobit will use GPS, Wi-Fi, and/or cellular networks to provide location updates when outside of a Trusted Place and away from you or the Care Team.
LOCATION ACCURACY CIRCLE
Click the icon or pull down the card to switch to Live Mode for real-time tracking.
DIRECTIONS
When Jiobit is in the "Tracking" mode, you can pull up directions using your default maps app to navigate you to the Jiobit's last known location
TIMELINE
Click the clock icon for a view of your child's location history over the last 48 hours. Jiobit Timeline
RING
You can Ring the Jiobit when it is outside of the saved Trusted Places (can not be with you or a care team member)

Admin Account Settings - Changing profile and Jiobit Asset information
Profile Information
When you need to change your profile information in the app, you can go to:
Menu > Account
Here you are able to change your name, photo,etc.


Jiobit Asset information
When you need to change any information of the Jiobit(s) linked to your account you can update it all from the Jiobit app. You can do this by going to:
Menu > Account > Select the Jiobit Asset you wish to update
Here you can change the name, picture and other essential information.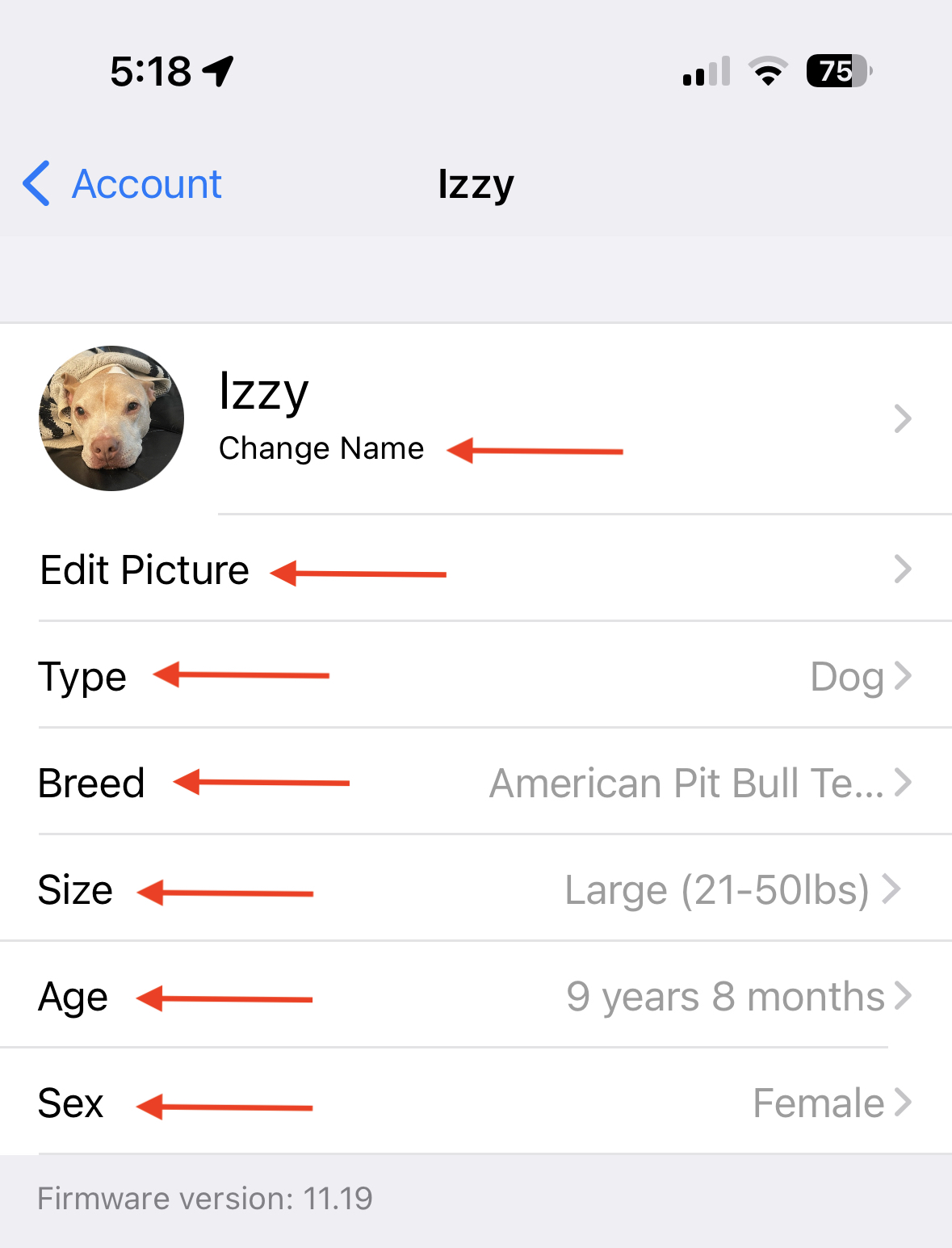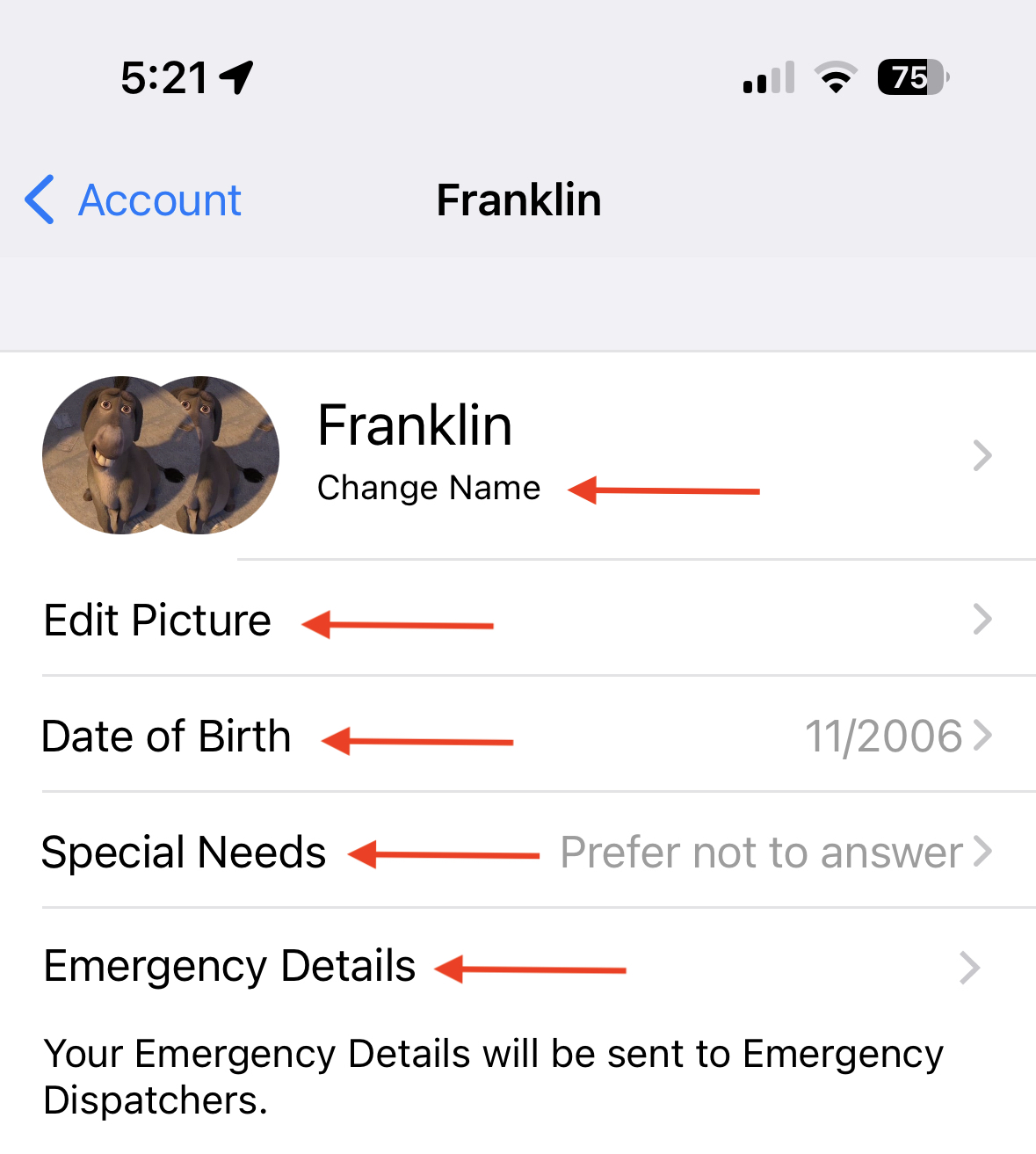 Please Note: Only the Admin can change Jiobit information