Tile and SmileDirectClub have teamed up to create cases for your aligners that are embedded with Tile technology.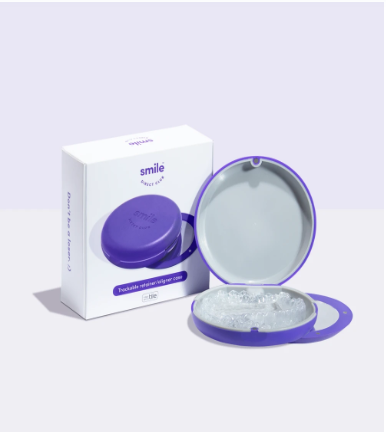 What is the SmileDirectClub Tile Case?
The SmileDirectClub case is embedded with Tile's Bluetooth technology. You can use the Tile app to find or ring your case. With its compact, waterproof, and sleek design you'll be able to take this worry-free case anywhere.
It is also compact and attractive enough to leave out on your counter and can be used for any aligner or retainer. It fits in your pocket and has a silicone lining that keeps everything in place. It also has vent holes so things stay dry.
How much does this case cost? Where can I buy one?
SmileDirectClub's Tile-activated retainer and aligner case is available exclusively on SmileDirectClub's website for $35.
What if I can't find my aligner/retainer case with Tile?
You can also enlist the secure help of the Tile Network to help you find your things. Just tap 'Notify when Found' and every phone running the Tile app within Bluetooth range of your Tile will send location updates to your phone anonymously, letting you know where it is. This feature works 100% anonymously and automatically to protect your privacy.
Can I use my computer to keep track of my aligner/retainer case through Tile?
At this time, the application is only designed to run on mobile devices, as the Tile Network relies on proximity to a device in order to locate a missing item.
Can I use the Tile app on any phone or device to track my aligner/retainer case?
Tile is compatible with both iOS and Android devices only. Phones with Windows OS are explicitly not supported by Tile.
What type of battery does the case have and how long will it last?
The battery has a built-in, non-replaceable battery that will last for a year. The case itself is also waterproof.
Can you change the Ringtone for the aligner/retainer case?
Yes, Tile has a variety of ringtones to suit your preferences. Learn how to change your case's ringtone.